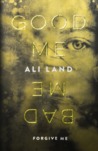 Good Me, Bad Me by Ali Land
My rating: 5 of 5 stars
Best book of the year so far (and by far!). It brings new meaning to the expression page-turner as I literally skipped lunch during lunch break since I couldn't wait to find out what would happen to Milly.
I would definitely recommend it to anyone who enjoys mysteries/psychological thrillers and isn't put-off by the blurb (considering Milly's mother is a serial killer the book is, naturally, disturbing at some points and that might make the book too hard to read for some people).